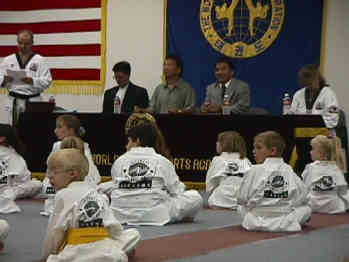 Photo Credit: Dave Lung (Thanks Dave!)
St. Peters/O'Fallon
Testing Awards April 13, 2013

Outstanding Dedication
This award is presented to our studentís who consistently exceed the regular training guidelines.
Olivia Murray
Best "Yes I Can" Attitude
This is awarded to the student that truly displays the attitude of the third tenet of Taekwondo, perseverance----to keep going when it gets tough.
Jessica Boyd
Black Belt Spirit
This award is presented to the student who is self-motivated. They exceed the requests and requirements of the staff and instructors, as well as set a good example for others. This studentís attitude, spirit and effort inspires all other students to become the best.
Justin Glosemeyer
Madison Haynes
Outstanding Student
An outstanding student demonstrates all the tenets of Taekwondo, and goes above and beyond to assist and support their school and fellow students.
Landon Markley
Madison Brown
Congratulations!